Couples costumes can be some of the most fun, as there are SO many great ideas out there! Once again, we love anything inspired by TV or movies, so we've rounded up some of our favorite couples costume ideas here for you to give a try. If you missed it, we recently shared female character costume ideas, and are going to have a few more round-ups for you before the big day! Don't forget to subscribe to our emails below to stay in the loop! 🙂
Ron and Veronica
from Anchorman
What You'll Need: Ron
Red Suit Jacket

Red vest to go under
White button up shirt to go under vest

Matching Red Pants
Multi-Colored Tie
Dress Shoes
Fake Mustache (if you don't already have one)
What You'll Need: Veronica
Work-Wear Suit

Jacket
Skirt or pants
Blouse or button up shirt to go under jacket
Make each item of clothing similar in color to really nail the look!
Austin Powers and Vanessa Kensington
from Austin Powers
What You'll Need: Austin Powers
Blue Velvet Jacket
White Ruffled/Puffy Shirt
Blue Velvet Pants
Glasses
BONUS: add in the voice (shagadelic, baby!!)
What You'll Need: Vanessa Kensington
Silver Dress

Halter or choker dress would be SPOT ON!

Silver Go-Go Boots
Hair half-up with a poof…so groovy!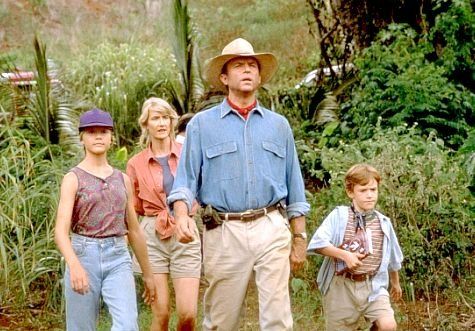 Dr. Alan Grant and Dr. Ellie Sattler
from Jurassic Park
What You'll Need: Dr. Alan Grant
Blue Button-Up Shirt (sleeves rolled up, to help you fight the dinosaurs, of course)
Khaki Pants
Brown Belt
Red Bandana
Safari Hat
Hiking Boots
What You'll Need: Dr. Ellie Satller
Pink or Coral Button Up (unbuttoned and tied in front)
Blue Tank
Khaki shorts
Hiking Boots (or whatever is best to run away from dinos)
Alfalfa and Darla
from The Little Rascals
What You'll Need: Alfalfa
Button-Up
Grey Pants
Bow Tie
Suspenders
The "Alfalfa 'Do"
Bonus points: memorize his love song to Darla
What You'll Need: Darla
Sailor-esque Top
Blue or Grey Pleated Skirt
Tall White Songs
Black Ballet Flats
Ruffled Umbrella
Don and Betty Draper
from Mad Men
What You'll Need: Don Draper
Suit
Pocket Square
Slicked Back Hair
Cigarattes
Scotch
What You'll Need: Betty Draper
Dress

Any sort of housewife, old-timey dress will do as long as it accentuates your waist!
Look to the show for inspiration… 🙂

Small Bag or Clutch
The Perfect Accessories to Match
Grace Kelly Hairstyle
Napoleon and Deb
from Napoleon Dynamite
What You'll Need: Napoleon Dynamite
Vote for Pedro Shirt
Jeans
Glasses
Mini Afro
Watch
(Learn Napoleon's dance to really help ya get in full character!)
What You'll Need: Deb
Crew Neck Sweatshirt
Khaki Capri Pants
Fanny Pack
Hair Half-Up
Bonnie and Clyde
What You'll Need: Bonnie
Beret
Light Orange Sweater
Scarf
Brown Skirt
Fake Gun
What You'll Need: Clyde
Clark Kent and Lois Lane
from Superman
What You'll Need: Clark Kent
Button-Up
Suspenders
Tie
Superman Shirt

To go underneath and slightly reveal by unbuttoning part of your shirt!

Glasses
What You'll Need: Lois Lane
Any Sort of Business Attire
Glasses (Optional)
Writing Pad
Baby and Johnny
from Dirty Dancing
What You'll Need: Baby
Light Pink Dress or Skirt + Tank
Strappy Heels
What You'll Need: Johnny
Black Shirt

Preferable something that you can show a little chest with! 😉
Black Pants
Black Shoes
Belle and the Beast
from Beauty and the Beast
What You'll Need: Belle
What You"ll Need: Beast
Blue Jacket or Coat
White, Puffy Top or Button-Up
Black Pants
Veronica Sawyer and J.D.
from Heathers
What You'll Need: Veronica Sawyer
Blue Tee
Gray Skirt
Poofy, '80s Hair
Cigarette
Some Cuts and Dirt
What You'll Need: J.D.
Band Tee
Leather Jacket
Black or Super Dark Jeans
Cigarette
Some Cuts and Dirt
Sam and Suzy
from Moonrise Kingdom
What You'll Need: Sam
Tan, Short Sleeve Button-Up
Tan Shorts
Yellow Scarf
Patches
Knee High Socks
Canteen (optional)
Raccoon Hat
What You'll Need: Suzy
Long Sleeve, Pink Dress
White Button-Up
White, Knee High Socks
Binoculars (optional)
Mia and Sebastian
from La La Land
What You'll Need: Mia
What You'll Need: Sebastian
White Button-Up
Tie
Dark Gray (or other) Pants
Tap Shoes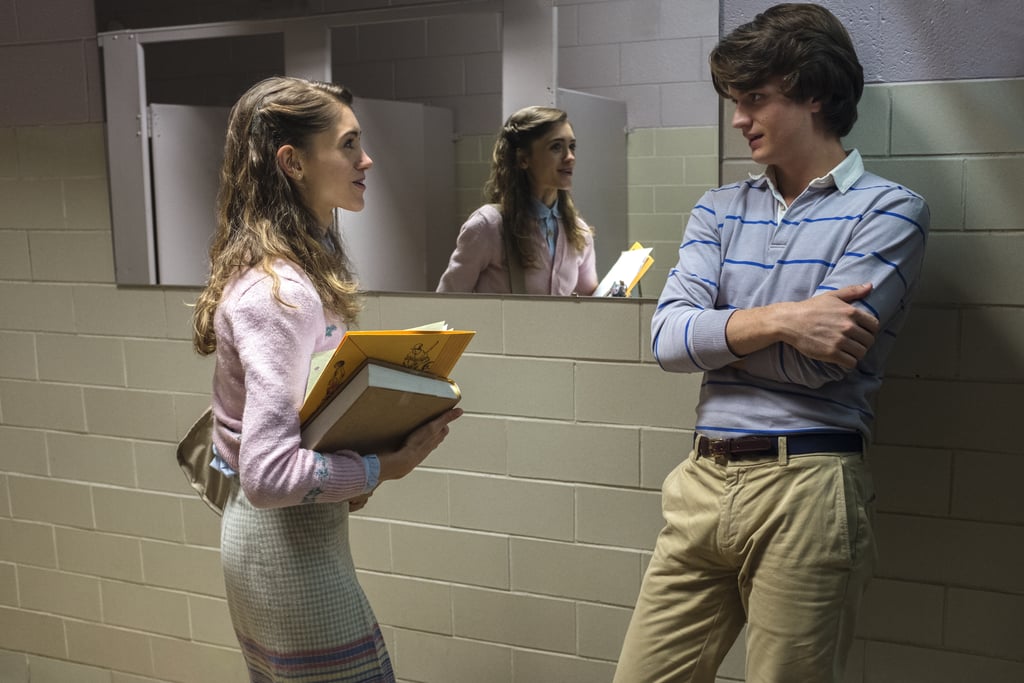 Nancy and Steve
from Stranger Things
What You'll Need: Nancy
Light Blue Button-Up
Light Pink Cardigan
High Waisted Skirt
White Tights
Loafers or Other Flats
Books (optional)
What You'll Need: Steve
Striped, Long Sleeve Polo
Khakis
Belt
George Bailey and Mary
from It's a Wonderful Life
What You'll Need: George Bailey
Striped Turtleneck

Add a '3' to it with an iron-on patch, tape, paint, or whatever you can think of!

Any Sort of Pants

George's are oversized, but any kind will certainly do!
What You'll Need: Mary
Mr. and Mrs. Smith
What You'll Need: Mr. Smith
White, V-Neck Shirt
White Boxers
Black Boots
Fake Blood
What You'll Need: Mrs. Smith
White Button-Up
Red Rain Boots
Fake Blood
Jenny and Forrest
from Forrest Gump
What You'll Need: Jenny
White, Flowy Dress

You could take a more hippie spin than the picture above!

Flower Crown
What You'll Need: Forrest
Short Sleeve, Plaid Button-Up

He wore a lot of blue!
Button it all the way up and tuck it in

Khakis
Belt
Red Hat (optional)
Box of Chocolates (optional)
Ferris and Sloane
from Ferris Bueller's Day Off
What You'll Need: Ferris
Trousers or Simply a Pair of Jeans
Printed Sweater Vest
White Tee
Leather Bomber Jacket
White Oxfords
What You'll Need: Sloane
White, Fringe Jacket
High Waisted Shorts
Skinny Belt
Blue Top
White Boots or Booties
Mia and Vincent
from Pulp Fiction
What You'll Need: Mia
White Button-Up
Black Cigarette Pants
Black Wig with Bangs
What You'll Need: Vincent
Black Suit
Socks (and no shoes)
Low Ponytail
Juno and Paulie Bleeker
from Juno
What You'll Need: Juno
Orange Striped Shirt
Zip-Up Jacket
Jeans
Skirt
What You'll Need: Paulie Bleeker
Maroon Shirt

Would be great with yellow stripes on the sleeve, or even if you could put the high school logo on the front!

Yellow Sweatband/Headband
SHORT Yellow Shorts
Tube Socks
Running Shoes
Mary Katherine Gallagher and Sky Corrigan
from Superstar
What You'll Need: Mary Katherine Gallagher
Light Yellow, Short Sleeve Button-Up
Deep Red Sweater Vest

Could add school logo to take it to the next level!

Black Mini Skirt
White, Knee High Socks
Black Flats or Loafers
What You'll Need: Sky Corrigan
Yellow Button-Up
Plaid Tie
Deep Red Jacket

Once again, could add the school logo

Gray or Khaki Pants
Belt
June Carter and Johnny Cash
from Walk the Line (or just from real life…)
What You'll Need: June Carter
Big Hair
Pretty, Mid-Length Dress
What You'll Need: Johnny Cash
Black Button-Up
Black Vest
Black Tie
Black Pants
Black Shoes
Guitar
Slicked Back Hair
Jim and Pam
from The Office
What You'll Need: Jim
Blue Button-Up
Tie
Khaki Pants
Coffee Mug (optional)
What You'll Need: Pam
White, Striped Button-Up
Pink Sweater
Khaki/Tan Skirt
Typical Pam Hairstyle

Pinned half back (as shown above)
*try to add Dunder Mifflin name tags to each costume!*
Coach Taylor and Tami
from Friday Night Lights
What You'll Need: Coach Taylor
Blue Polo Shirt

Add Panthers logo (as shown) or a 'P' where the logo would be!

Sunglasses with Neck Strap
Blue Hat
Khakis
Belt
What You'll Need: Tami
White, Basic Top
Light Brown/Tan Leather Jacket
Jeans
Curled Hair